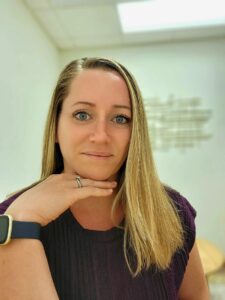 Nicole is passionate about helping people find their neutral ground. She enjoys learning about people as individuals and what makes them unique. Nicole understands the importance of meeting people where they are while providing them a safe space to process and heal.
Nicole has extensive experience working with children, young adults, and families. She worked as a Behavioral Health Case Manager previously as well as gained experience during her internship as a clinical social worker. Nicole understands the importance of feeling safe and validated while exploring the difficult pasts with her clients. In her years of working in the mental health field, she has become skilled in working with people experiencing anxiety, depression, grief/trauma, and addiction, as well as providing trauma-informed care.
Nicole utilizes mindfulness and individual strengths to help her clients regain self-confidence. She integrates various approaches in the therapeutic process, depending on the client's needs.
Nicole enjoys spending time with her children and husband, as well as their two small dogs. Her favorite hobbies include hiking, sitting on the beach, and playing outside with her children.