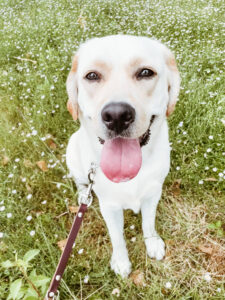 Gamma is a 1-year-old labrador retriever. Some of her favorite things are belly scratches, meeting new friends, and giving hugs. She loves greeting everyone who enters the office with a smile and a slobbery kiss. If you have a ball in your hand, then you will have her heart forever.
When Gamma is off duty, she loves playing with her sister and helping her patrol the yard for squirrels or birds. However, her favorite thing to do while off duty is soaking up some cuddles on the couch.
If you need something to brighten up your day or a little extra love, Gamma will happily help, it just might include some slobbery kisses!