About Soma Therapy
We are an integrative therapy and counseling center serving greater Wichita. We work with adults, children, couples, and families. Our therapists have specialized training in many areas including: complex trauma, relationship counseling, ADHD, children's therapy, depression, and anxiety. We also offer psychiatric medication management and mental health yoga. We seek to fill the need for holistic and evidence-based therapy, counseling, psychiatric medication management, and mental healthcare in the greater Wichita area.
Yellow Brick Therapy Podcast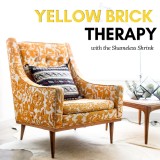 Learn, laugh, and talk about all things therapy and counseling on the Yellow Brick Therapy road. The show is hosted by local Wichita Therapist Jenny Helms of Soma Therapy. Listen to the latest episodes here.
Latest Posts
Exploring Borderline Personality Disorder: Symptoms, Causes, and Treatment Options Borderline Personality Disorder (BPD) is a complex mental health condition that affects millions of individuals worldwide. This blog post provides comprehensive information about BPD, including its symptoms, causes, available treatments, and general insights into the condition. By shedding light on BPD, we aim to increase awareness, […]

Overcoming the Negative Effects of Trauma through Active Therapy Trauma is a devastating experience that can leave individuals with physical, emotional, and psychological scars. It can be triggered by various factors such as violence, abuse, accidents, and natural disasters. The impact of trauma can affect a person's life in various ways, such as their relationships, […]

Eating disorders are complex mental health conditions that can affect anyone, regardless of age, gender, or ethnicity. They are serious illnesses that can have severe physical and emotional consequences if left untreated. In this blog post, we will explore the different types of eating disorders, their symptoms, and the various treatment methods available. Types of […]
Therapy & Counseling FAQ
How do I find a therapist, psychiatric medication provider, or counselor?
First, I'd recommend asking family and friends. If you aren't having luck with people you know (or feel too uncomfortable asking), you may want to search on the internet.  Most therapists, psychiatric medication providers, and counselors have websites and biographies that explain their expertise. Read each profile carefully and cross-check them with the therapist's own website (if they have one) to see if a particular therapist's philosophy resonates and if they treat your presenting concerns. You can learn more about Soma Therapy's therapists, psychiatric medication providers, and counselors here.
How much do therapists or psychiatric providers cost near me?
The price of a therapist or counselor ranges on the therapist, designation, and specialty. Most licensed therapists charge $100-210 per session in the Wichita, Kansas area. Fortunately, health insurance may help and cover most if not all of your therapy expenses depending on your insurance.
What do I do if I can't afford a therapist?
If you don't have insurance and out-of-pocket rates are too high, you may want to find a counselor with sliding-scale fees or work with a student intern. We have both at Soma Therapy and are happy to refer you to other Wichita community resources with lower cost therapy.