About Soma Therapy
We are an integrative therapy and counseling center serving greater Wichita. We work with adults, children, couples, and families. Our therapists have specialized training in many areas including: complex trauma, relationship counseling, ADHD, children's therapy, depression, and anxiety. We also offer psychiatric medication management and mental health yoga. We seek to fill the need for holistic and evidence-based therapy, counseling, psychiatric medication management, and mental healthcare in the greater Wichita area.
Yellow Brick Therapy Podcast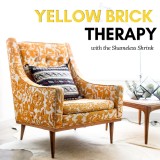 Learn, laugh, and talk about all things therapy and counseling on the Yellow Brick Therapy road. The show is hosted by local Wichita Therapist Jenny Helms of Soma Therapy. Listen to the latest episodes here.
Latest Posts
The month of September hit off the back to school season for kids, teens, and youth. Whether you're in school or in college, SOMA Therapy in Wichita, Kansas compiled various pieces of advice to help make your back to school transition smoother. Parents: Listen! It is crucial to listen to your kids so you can […]

Compassion is an ever-growing area of interest within psychology and psychotherapy. Although definitions of compassion vary, there is broad agreement that compassion is comprised of a combination of affective, cognitive, and motivational components. While everyone has, to some degree, a level of compassion, for some it can be beneficial to develop these skills further through […]

Introduction to Systemic Therapies and SE A lot of people are familiar with cognitive behavioral therapy (most popular types of therapy), but there are other forms of therapy that can also be effective in treating different kinds of issues. One such form is called systemic therapies, and another is somatic experiencing (SE). Let's look at […]
Therapy & Counseling FAQ
How do I find a therapist, psychiatric medication provider, or counselor?
First, I'd recommend asking family and friends. If you aren't having luck with people you know (or feel too uncomfortable asking), you may want to search on the internet.  Most therapists, psychiatric medication providers, and counselors have websites and biographies that explain their expertise. Read each profile carefully and cross-check them with the therapist's own website (if they have one) to see if a particular therapist's philosophy resonates and if they treat your presenting concerns. You can learn more about Soma Therapy's therapists, psychiatric medication providers, and counselors here.
How much do therapists or psychiatric providers cost near me?
The price of a therapist or counselor ranges on the therapist, designation, and specialty. Most licensed therapists charge $100-210 per session in the Wichita, Kansas area. Fortunately, health insurance may help and cover most if not all of your therapy expenses depending on your insurance.
What do I do if I can't afford a therapist?
If you don't have insurance and out-of-pocket rates are too high, you may want to find a counselor with sliding-scale fees or work with a student intern. We have both at Soma Therapy and are happy to refer you to other Wichita community resources with lower cost therapy.