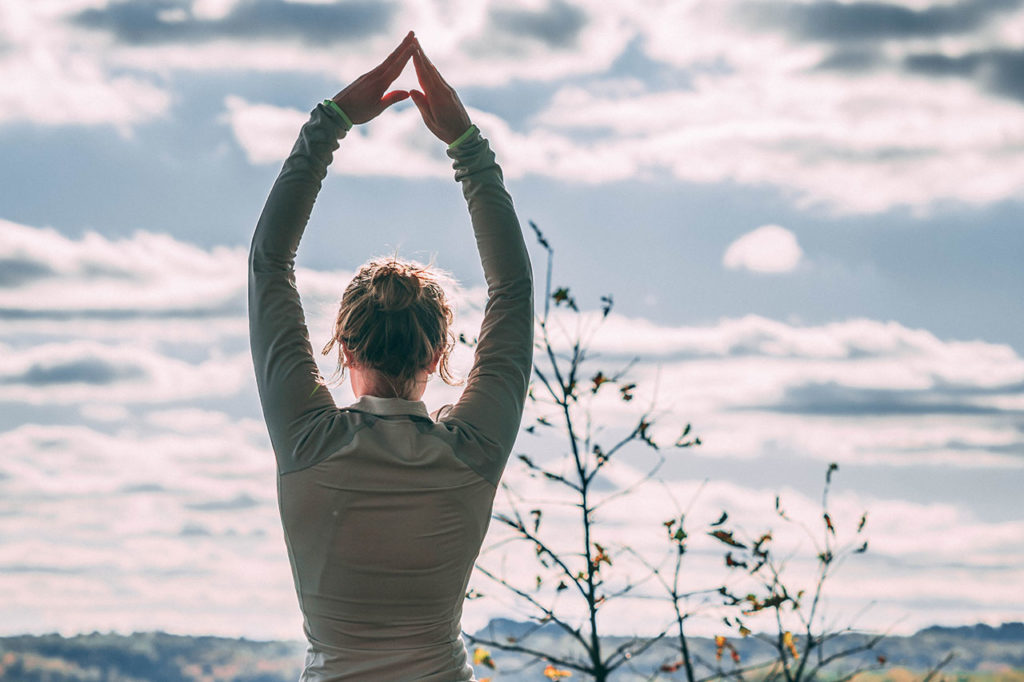 What is Trauma-Informed Yoga?
The trauma-informed yoga model is unique because it assesses clients from a holistic perspective. Rather than considering each system separately, it addresses issues physically, emotionally, mentally and spiritually. Practicing trauma-informed yoga will compliment other therapy and medical interventions and empower clients to reach specific goals or needs. Despite any limitations, it will facilitate healing and optimize well-being.
Trained providers have in-depth knowledge on the teachings and philosophy of yoga and how trauma can present in the body. This enables them to help their clients reduce or manage their symptoms and improve their function. Additionally, practicing trauma-informed yoga will help clients with their attitude in relation to their health conditions and to their bodies.
What is trauma-sensitive yoga?
Trauma-sensitive yoga is a modified form of yoga with the goal of helping individuals regain comfort in their bodies, counteract rumination, and improve self-regulation. The intention of this new style of yoga therapy is not to bring up emotions or memories, but instead to help people increase body awareness and to gain an understanding of what is happening inside their bodies. This is so people can learn how to release built up tension, and reduce and control fear and tolerate sensation.
How does trauma affect the body?
Psychological trauma occurs when an individual has a series of experiences that result in an injury that changes the way the brain functions. Trauma can trigger a chronic response to the body. Individuals who suffer from psychological trauma have difficulty soothing their overactive internal sensations. Many people turn to external solutions such as eating, substances, or self-harm. Trauma-sensitive yoga offers a complementary method to traditional therapy by allowing traumatized individuals to reconnect with and identify their own physical sensations.
What are the physiological effects of trauma-sensitive yoga?
The techniques of trauma-sensitive yoga lighten the effects on the body's nervous system. The mindfulness and meditation of trauma-sensitive yoga will allow the mind to maintain awareness of the individual's body while remaining in a calm state of mind. Research shows that trauma- sensitive yoga can reduce the overall intensity of the stress response and improve the individuals ability to self-sooth.
The difference between a yoga class and yoga therapy session:
In today's world, we are often intimidated by yoga because of advertisements showing impossible poses typically performed by a thin person in the hottest new yoga outfit. It's unfortunate that this is how yoga is sold. To be fair, many people come to yoga for a power, hot, vinyasa, or flow class so they can cram in as much calorie burning activity as possible. Although yogis report therapeutic benefits from these types of yoga classes, it isn't all that yoga can offer. In other words, it is a common misconception that yoga is only about stretching and complicated movement.
Trauma-informed yoga private classes are tailored to you and offers something for all ages, body types, flexibilities and experience level. Specifically, it can help you if are active or if you are immobile due to health conditions. In other words, you don't have to know anything about yoga to begin seeing a trauma-informed yoga instructor today.
Reasons you should consult with a trauma-informed yoga instructor:
Chronic Pain/Arthritis/Fibromyalgia
Functional movement issues/injury/illness/surgery
Anxiety/Depression/Stress/Tension
Substance Abuse
Post Traumatic Stress (PTS/PTSD)
Traumatic Brain Injury (TBI)
Digestive issues
Amputation
Grief and loss
Cardiac issues
Overcoming cancer and side effects of chemo
Parkinson's disease
Scoliosis or other musculoskeletal issues
Diagnosis of condition in which doctor recommends gentle yoga
Major life transitions
Want private yoga sessions/do not feel ready for a group yoga class
Enjoy group classes, but are seeking some new ways of individualizing your practice
Struggle with balance
Improve your flexibility and/or strength
Incorporate a self-care and/or a health and wellness routine into your life
Experience fatigue, insomnia, sleeplessness, sleep disorders
An Individual Yoga Private Session Might Look Like:
First, our providers will assess clients through listening, questioning, observing and physically helping appropriately. After assessing their clients, providers establish appropriate goals and techniques with the client. Finally, they develop a practice and then teach clients to practice on their own to achieve their personal goals.
Pre-appointment assessment: Prior to the first appointment, you will receive a questionnaire. These questions are asked so that you to start thinking about your habits, routines, concerns and goals. This provides helpful information for the yoga instructor so that they come into your first face-to-face session with some additional questions and some ideas to try. If you are unsure of your goals, a therapist can help you come up with a goal as well!
In person initial assessment: The initial assessment session typically lasts between 50-60 minutes. During the first appointment, the yoga instructor will ask additional questions regarding daily routines. Next, they will perform an observe how you breathe, walk and sit. After that, they will clarify some simple goals. Based on the session, the yoga instructor will likely have small changes/techniques to try out together and ask you to practice until the next session.
Follow-up session: The first follow-up session and any other appointments will last 50-60 minutes. During the follow-up appointment, you and your yoga instructor will discuss how the small assignment(s) went. In other words, you will report any notes, likes or dislikes. The yoga instructor will also give you additional ideas. Based on your goals, these ideas might include physical postures, breathing techniques or meditation options.
Want to Schedule an individual Yoga Therapy Appointment?
Contact us here by calling 316-201-6047. We will consult with you on scheduling the yoga class that best fits your needs and schedule.
Investing in Yoga Practice:
Private Trauma-informed Yoga Sessions (60 min)
Includes: One-on-one sessions providing guidance with movement, breath, meditation, relaxation. They may include other yoga tools to support the clients' intentions and goals for optimum mental and physical health.
$50
If you or a loved one is struggling with any of these issues, please contact us today to get a compassionate and thorough intake. After that, we can connect you with the best services possible based on your needs. Hope is just a phone call away! (316) 201-6047 or contact us here.