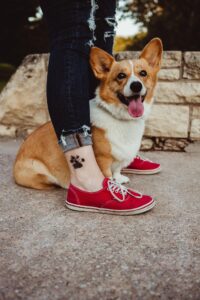 Harper is a 7-year-old Pembroke welsh corgi. Some of her favorite things include naps, pup cups, and playing tug of war. She has always been a sweet, loyal companion and she is a great therapy dog with her unwavering loyalty and ability to tolerate deep talks and forced snuggles.

While Harper is absolutely loving and wants to be pet, she is a little picky and does not like butt rubs or belly rubs. If you get close to an area she doesn't want to be touched, she will give a small growl. We love a girl who expresses her boundaries!
Want to work with Harper? Visit our website or give us a call at 1-316-201-6047.